I Decided to Give Up, but Baheya Renewed Hope in My Heart Again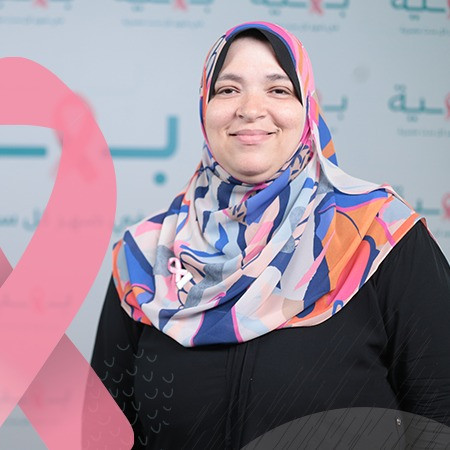 "I
discovered that I have breast cancer before the exams of high school and
without thinking, I decided not to tell anyone from my family the truth. All
that I was thinking of then was the disordered state that would affect my
family's life which I spent my life organizing it. My children were in high school,
and I did not want to cause any distraction to them. Therefore, silence was the
best decision. I waited for 4 months until my children finished their exams,
and then, I decided to tell them the secret". Huda is a woman in her 50s who is
married and has 2 children, and she is one of the breast cancer fighters.

Huda
has been married for about 25 years and she has 2 children "a son and a
daughter". She started her cancer treatment journey in 2014 and she faced many
obstacles during it, yet, in the end, the plight was a Godsend for her.

Huda
relates her journey with breast cancer: "I decided to give up once I stood in
front of Baheya Hospital. On the road leading to the hospital, I saw women who
received their treatment and felt very frightened as I have a fearful mental
image of cancer patients. Therefore, I decided to give up, but I went to the
hospital only to satisfy my husband but in my heart, I intended to give up".

In
Baheya Hospital, Mrs. Huda stood looking at women moving quietly in the
hospital's corridor and she was surprised by noticing that they kept smiling
all the time. Huda says: "At that time, I did not know a reason for the
satisfaction smile on the women's faces. They have cancer which we call "the
brutal illness" no one overcomes it. It is the fast way to death... or that what I thought".

My
first knowledge about hospitals that depend on donations was when I watched the
advertisements saying that they provide the treatment completely for free and I
did not believe this. However, in Baheya, I believed it as I was one of the
women who received the treatment without any charges. This was the first thing
I noticed in Baheya Hospital. The second thing I noticed was a divine message.
When I was lying on one of the beds making an invocation to Allah to relieve my
pains or make me die, at this moment, I heard another patient passing by me
saying that she had cancer about 18 years ago and underwent a
mastectomy of the left breast. At this moment, I realized that cancer is not
the end of life. This woman had cancer, received the required treatment before
18 years, and lived after having cancer for about 20 years, so why don't I
repeat her experience?


Besides
the great medical care provided for breast cancer patients in Baheya
Hospital, there is another side that is not shown in the figures and statistics
of treatment, which is the emotional support and how the breast cancer patient
is emotionally supported besides receiving the medical care. What surprised me
is that the hospital turned out to be a large family in which I live
voluntarily. How did the story start?

One
day, when I was on a routine visit to the hospital to do the examinations, I
found a room in which "The Emotional Support" phrase was written. I asked about
it and one of the patients told me that this department is responsible for the
patient's psychological recovery. Therefore, I decided to know more about it. I
entered the Emotional Support room and since then, I haven't gone out of it except
for applying what I learned inside it. I learned how to deal with patients and
how to give them hope and not leave them for their dark thoughts and of course,
I learned how not to give up and let it eliminate my life... The lesson I learned from Baheya Foundation
is that there is always hope and it is the most important weapon in fighting
cancer and the most effective weapon to defeat it.