Joining the Baheya family was a substitute for my family who abandoned me to my illness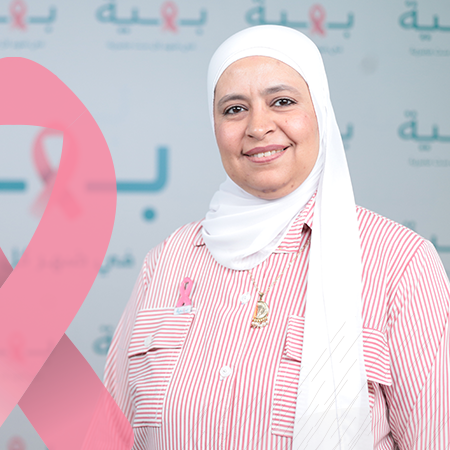 Samah
Yossry is a married woman, in her 50s, who has 3 children. She lived for her
small family since she married, and life went through its ups and downs. However,
she suddenly started to feel pain in the breast area. She tried to resist as
much as she could in order not to bother her family with her pain, but the pain
was unbearable, so she decided to tell them what she felt. She started visiting
many doctors of different specialties and in the end, a friend of hers advised
her to contact Baheya Hospital... and she did.

She
made her first call and on the same day, she received a call with an
appointment scheduled in less than a week. All required examinations were done
with high accuracy and efficiency, and she was diagnosed with breast cancer in
the second stage. Mrs. Samah says: "When I started to feel the illness, I went
to a gynecology doctor who told me that it is quite a simple matter as it is
just an ulcer and prescribed a medicine to me which I took regularly but in
vain. On the contrary, in Baheya, I was examined and got the result on the same
day and the result was very accurate and efficient which increased my belief
that the hospital will provide the necessary medicine and take care of the
patient without making a profit".


The
road was not paved with flowers. Besides the shock of having breast cancer, the
second shock was at her family. Samah says: "I was getting ready to enter the
operating room when my older brother got closer to me and told me that I will
not get my inheritance because I will die, and they will not leave the money of
the family for my husband... At this moment, I felt that I fell into a very
deep and dark well. I am about to die, and my brothers care for money only".

In
the darkest moment of life, Allah sends you a message that you are not alone. Mrs.
Samah says: "I found relief in the Baheya family when my family abandoned
me. I got to know many friends who became closer to my family. During the
treatment journey, I got to know the Baheya family and learned many things that
I never imagined learning. The thing that distinguishes Baheya besides its
medical role, is its emotional role. They are keen on providing workshops in
various fields to allow the patient to rediscover herself, the thing which
happened to me. I learned embroidery and sewing in addition to how to be the
best supporter of a breast cancer patient".

I
never had a job during my life, but after I joined Baheya, my vision of life
changed. I had a new goal to pursue, and the world became wider. Baheya
introduced a new path to life to me. I learned how to make accessories
for women through workshops provided by Baheya and now, thanks to Baheya, I have become a working and productive woman and it turned from a hobby to a job.